Veeva Content Partner - A Strategic Choice for Pharmaceutical Companies
01 October 2021 by Isabella Coupland
At PULSE, we have continually invested in training and developing our technical capabilities on platforms such as Veeva to enable us to better serve customers.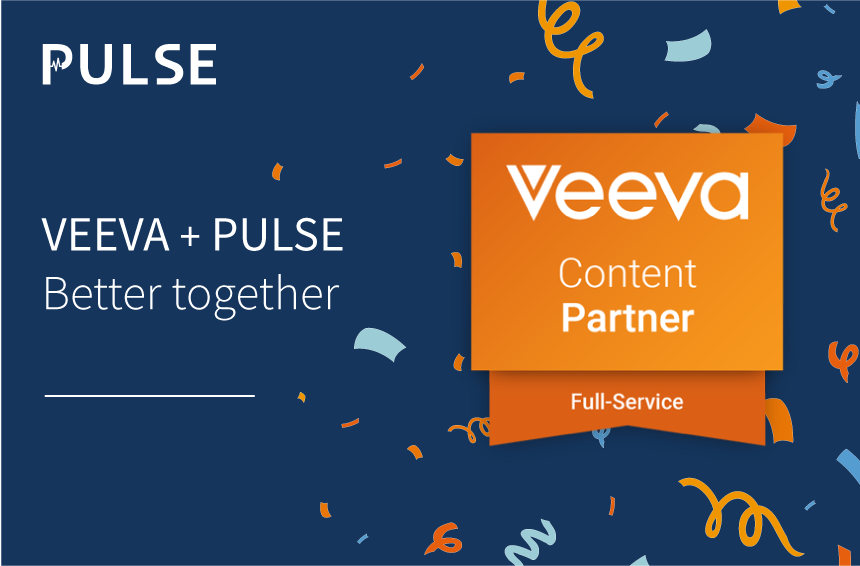 What is a Veeva Full-Service Content Partner?
Veeva Full-Service Content Partners are trained to support commercial and medical customers across the Veeva commercial cloud including: Veeva CLM, Veeva CRM Approved Email, Veeva Engage for Meetings, Veeva Engage Portals, Veeva Vault MedComms, Veeva MyInsights and Veeva Vault Review and Approvals.
As one of the highest certified Veeva Full-Service Content Partners in the UK and one of the most accredited in Europe, we support Veeva customers across the entire Commercial cloud, offering expertise and knowledge on products and platforms, in depth training, technical and strategic support and a wide range of Veeva solutions.
Why are Veeva accreditations important?
Recognition as a Veeva Full-Service Content partner is important as it helps Veeva customers to choose an agency that has proven knowledge and understanding of the end to end content process and Veeva commercial cloud.
Certified Veeva Content Partners, gain Veeva product expertise through training, development, support and product experts. Partners access tools and their own Veeva Vault sandbox to help customers with their Veeva projects.
How do individual accreditations within the organisations benefit customers?
Veeva Content Partners can certify individuals in specific solutions, providing Veeva customers with the ability to select a suitable Veeva agency for their project. At the time of writing, PULSE has 13 certified team members in CLM, 12 in Veeva Approved Email, 9 in Engage Meetings, 11 in Engage for Portals and 10 in Reviews and Approvals. Our highly experienced, UK based team is equipped with the knowledge of how to utilise these applications and services, providing Veeva customers with invaluable insights and expertise.
With the help of our skilled developers, customers can implement strategic plans to help unlock the full potential of their chosen Veeva solutions, receive tailored expertise and advice, obtain dedicated support and guidance and build content.
Why do we choose to be a Veeva Full-Service Content Partner?
As a certified Veeva Content Partner, we gain exclusive access to Veeva training and support; as a member of Veeva's partner program we are provided with the correct tools and capabilities to help Veeva customers with the delivery and implementation of successful projects.
Why should Veeva customers choose to work with a Veeva Content Partner?
With Veeva Content Partners, customers have the opportunity to address their business requirements and extend the value of their Veeva investment without compromising flexibility or reliability. Veeva's partnership program provides Veeva customers with the opportunity to make an informed decision when choosing a Content Partner to support their projects.
By choosing a Veeva Content Partner, Veeva customers gain:
Trust: Veeva Certified Partners are proven and renewed annually. Certifications vary across programs to ensure that partners are trained on the integrations and services they provide
Customer Success: Veeva partners must maintain a high standard of quality and compliance to support customer success
Efficiency: Veeva customers can complete implementation and configuration projects faster through standard integrations, expertise and highly trained team members
Variety: Veeva customers are offered options to help meet their ever changing needs

Having been recognised as one of the highest certified Veeva Full-Service Content Partners over the last 5 years, PULSE ensures that Veeva customers receive the highest level of support during their projects lifecycle. PULSE provides the expertise necessary to help Veeva customers succeed; from planning through to implementation, we are committed to the success of your project.
---
Get in touch to speak to one of our certified Veeva experts about your project.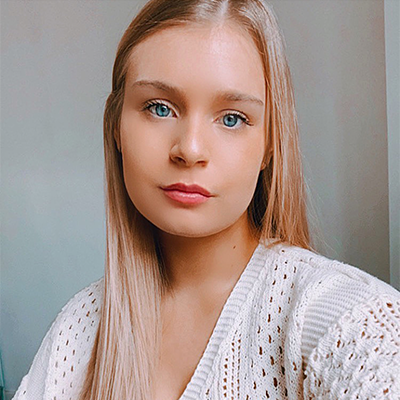 I am the Communications Lead at PULSE and I help generate awareness around our solutions. I am passionate about how communications help support our customers in achieving their business objectives.
I have a particular interest in the end to end content supply chain for global pharmaceutical customers; I take a keen interest in the burgeoning trends of healthcare, supported and delivered by digital and its associated technologies.
Working in an innovative and fast-paced industry, I strive to ensure that our communications are clear and focus on the value we create for healthcare professionals, patients, consumers, and shoppers.