Accelerating and Streamlining Veeva CLM Content Creation - A Global to Local Process
16 September 2021 by Isabella Coupland
The life sciences industry is experiencing a shift to hybrid engagement with HCPs which is, in turn, creating pressures on global brands teams responsible for content creation.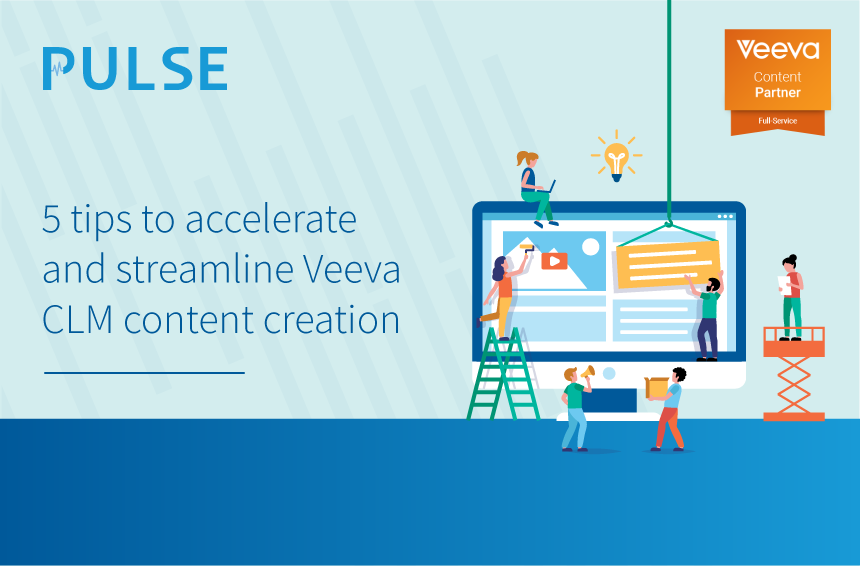 Veeva Pulse data shows life sciences companies created 3.5 times more digital content than print in 2020, illustrating the increase in demand for digital content. As the demand for more complex and intricate multichannel content rises, it is evident that traditional methods of reviewing and approving copy may not be sufficient. Organisations need to streamline their workflows to ensure that multichannel, digital content is created and distributed faster and in an efficient manner:
1. Improve Veeva Content Quality by Creating a Clear Objective and Process at Pre-Approval Stages
A clear brief and understanding of the aim of the content ensures that any assets created during the pre-approval process are focused and share the same objectives. Spending more time in this initial planning phase helps to align the purpose and role of the content. Prototypes or draft layouts (ask us for more information on prototyping) can help as part of a pre-briefing process with MLR teams, helping to obtain early steer and advice on the potential compliance challenges ahead. This helps ensure that this stage is efficient and that the process can continue with ease. Having a clear understanding of the purpose and aim of the content ensures that the MLR review process is aligned and allows for accelerated content approval.
2. Utilise Real-time Insights and Data
Insights ensure that the content review and approval process is working efficiently, giving visibility to stakeholders and enabling them to take action. Areas for improvement in the content lifecycle can be easily identified and rectified accordingly. Recording the time it takes from creating the initial draft copy to seeking approval provides a clear indication of how long review cycles take and allows any delays in the medical, legal, and regulatory (MLR) process to be addressed. Content reuse across global and local markets can be tracked, allowing organisations to determine which assets have the most potential for reuse.
Global brand teams can also see the content which has had the greatest impact on customers, the types of content which are being reused, and how the approvals process can be accelerated. This data can in turn be used in the content planning process at a global level. Data that shows low adoption for particular brands or markets enables global teams to investigate further and again, feedback insights and changes into the content creation process.
3. Tailor Content Reviews Geographically
Recognising the legal and compliance requirements and the impact of these additional complexities in the content review process, organisations can often find it difficult to track and record content reuse due to changes made in local markets. Using content metrics to record these time frames helps draw greater visibility and understanding of the challenges. Teams are able to collaborate and set more realistic time-based goals around the approval process and more importantly, look to adapt global master content creation to better meet local market needs.
4. Utilise the Power of Modular Content
The combination of an increase in digital engagements with HCPs, the greater number of communication channels, and the desire to create more personalised and relevant content puts added pressure on the content creation, review, and approval process. Veeva Pulse data shows that whilst 74% of digital content is approved in the first review cycle, approval delays remain high at an average of 21 days. Continuing with the same processes that were used for traditional, lower volume, print-based materials isn't sustainable.
Adoption of modular content to Veeva content creation can help. Veeva Modular Content is the process of breaking up larger complex pieces of Veeva content - a Veeva CLM slide for example - into smaller modules of assets that are automatically linked to an approved reference or claim. When this module of content is reused, the MLR process is accelerated as the module doesn't necessarily need to be submitted for review. Furthermore, teams can review the modular content available during the planning process and build new content using existing, pre-approved modules resulting in reducing production costs and timelines.
5. Establishing Goals by Using Benchmarks
Industry benchmarks help set organisation-wide goals for teams by 'bringing the outside in' and demonstrating the possibilities within the industry. Positioning these benchmarks as targets gives teams a focus and objective to target as part of the collective internal community.
As digital content evolves and increases in complexity, it is clear that traditional content creation and review, and approval workflows and processes need to be updated. Organisations now have the ability to utilise data to raise visibility on content creation performance, using external benchmarks as targets. Employing a modular content approach to Veeva content creation and localisation will help accelerate reviews and approvals, speed to market and reduce production costs.
---
Get in touch with the team to find out how to combine your Veeva Modular Content strategy with our industry-leading Veeva CLM Content Authoring Solution, Heartbeat™.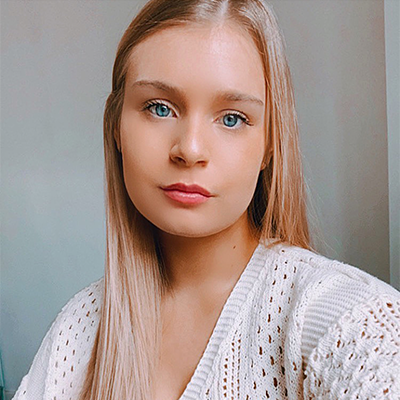 I am the Communications Lead at PULSE and I help generate awareness around our solutions. I am passionate about how communications help support our customers in achieving their business objectives.
I have a particular interest in the end to end content supply chain for global pharmaceutical customers; I take a keen interest in the burgeoning trends of healthcare, supported and delivered by digital and its associated technologies.
Working in an innovative and fast-paced industry, I strive to ensure that our communications are clear and focus on the value we create for healthcare professionals, patients, consumers, and shoppers.